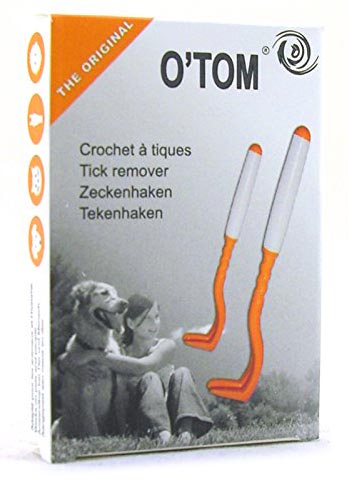 Click image for close-up
ORDER Tick Twister® O'TOM today!
Tick Twister O'TOM® is THE most efficient set of tools to remove all ticks, any size and location on people and animals such as dogs, cats and horses. It's painless, safe, quick and easy.
Keep a set of Tick Twister O'TOM® tools in your house, your car, your backpack, tackle box and your emergency kit - anywhere you might need it. They're so small, you can even carry one in your pocket!
The original O'TOM Tick Twister O'TOM® 2 hook pack comes with 2 hooks (the large hook is for removing medium and large ticks and the small hook is for removing small and very small ticks). All packs come with complete instructions and cost only $4.99 each!
We also offer bulk display boxes at a 20% discount.
Place your order below using our convenient and secure shopping cart. We accept Visa, Mastercard, American Express, Discover and PayPal (including eCheck).
For orders by regular mail with a check, money order or credit card - please use our Printable Order Form (USA orders only).
Continental U.S., Alaska, Hawaii, and Canada Orders ONLY.
Orders shipped to New York will also pay 8.125% Sales Tax.
All USA individual pack orders are shipped via USPS First Class Mail.
Buy up to 6 individual packs in one order and pay just $3.95 shipping and handling (USA orders).
Bulk pack display boxes are shipped via USPS or UPS (USA orders).
Shipping and handling on one bulk display box via USPS Priority - $7.00. Add another $1.00 shipping for each additional bulk box added to your order. Orders of 5 or more boxes receive free shipping.
Orders to Canada pay an additional shipping charge depending on service chosen at checkout:
USPS 1st Class Package Int'l (estimated 10-30 business days for delivery) add $7
USPS Priority Int'l (estimated 6-10 business days for delivery) add $24.
International customers are responsible for any Import Duty/VAT that may be due on delivery.
All prices on this website are in US Dollars.